Worked All South Dakota Counties Award


Sponsored by Prairie Dog Amateur Radio Club W0OJY

PURPOSE
To encourage communications between Amateur Radio operators outside of South Dakota and Amateurs throughout South Dakota.
RULES
1. Any licensed Amateur Radio operator may qualify for the award by
contacting licensed Amateur Station in all 66 South Dakota Counties.
2. Within the US, contacts can be made from several locations to reflect our
mobile society. Outside the US, contacts must be made from within the same
country.
3. Contacts utilizing terrestrial repeaters/digipeaters are not permitted. Satellite
contacts are permitted.
4. All contacts must be made using valid Amateur Radio Bands and modes.
5. Contacts prior to January 1, 2018 are not permitted.
VERIFICATION
List QSO calls, dates, bands and counties worked on the application from. You
need to have QSL cards from each of the 66 South Dakota counties with the name
of the county on the card where the QSO took place from. DO NOT SUBMIT the
cards but rather have two other unrelated Amateurs witness that they have
confirmed the validity of the contacts on the QSL cards.
AWARD
A certificate signed by the Prairie Dog Amateur Radio Club.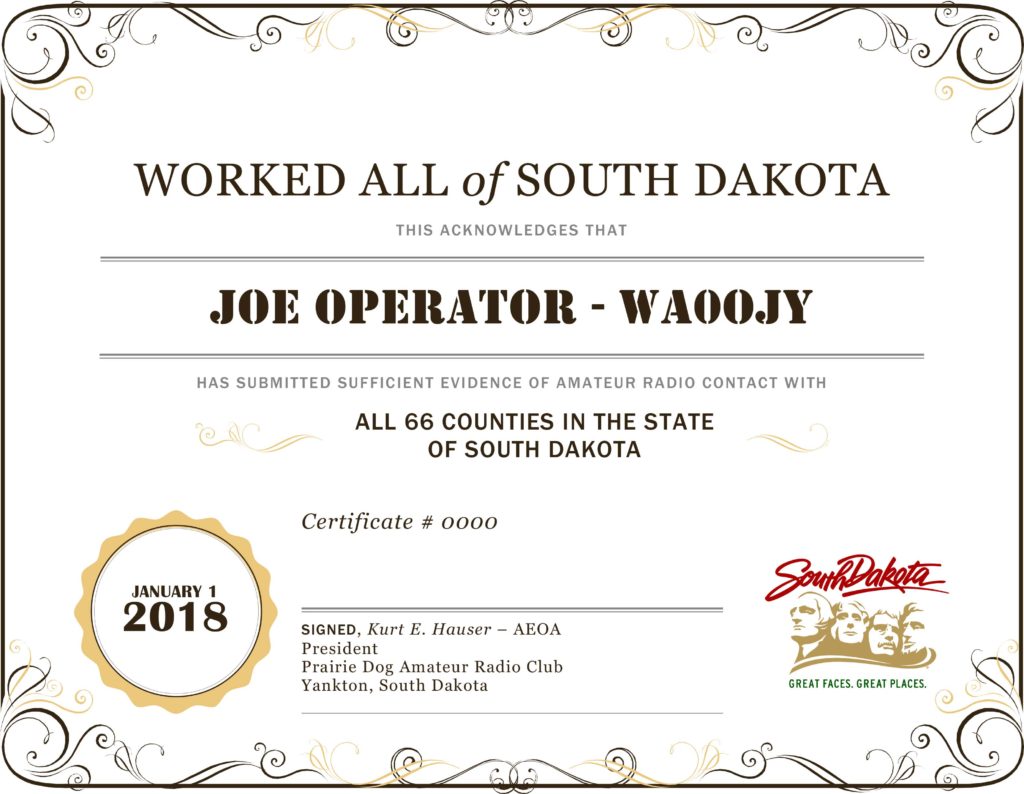 COST
There is a US $3 fee for the certificate to cover the club's printing and mailing
costs. DX stations please include US $4.
APPLICATION FORM                                                                                                    The application form can be downloaded in pdf format from the link below.                                   South Dakota Worked All Counties Application Form
SUBMIT APPLICATION FORM BY EMAIL or MAIL.                     
EMAIL:  prairiedogarc@gmail.com
MAIL:                                                                                                                                Prairie Dog Amateur Radio Club W0OJY
30971 433rd Avenue
Yankton, SD 57078-6712
USA